Each December, my family discusses travel goals for the upcoming year. We makes lists of cities we would like to visit, tourist attractions we would like to explore, and more often than not, our vacations include a stay at a Marriott property.
Marriott International is a leading hospitality company with over 3,800 properties in over 74 countries and territories around the world, which means you'll be able to find a hotel in almost any city you travel to.
Marriott is also helpful when it comes to planning getaways because they include infographics and interactive pages on their website.
Since my husband has never been to New York city before– and we're only a few hours away in Boston– we've been planning an upcoming trip. I was so pleased to find this Marriott infographic regarding the city's five boroughs! Not only does it give a brief history of each borough, but it also lists restaurants and tourist attractions. That's definitely information my family looks for when considering a hotel location.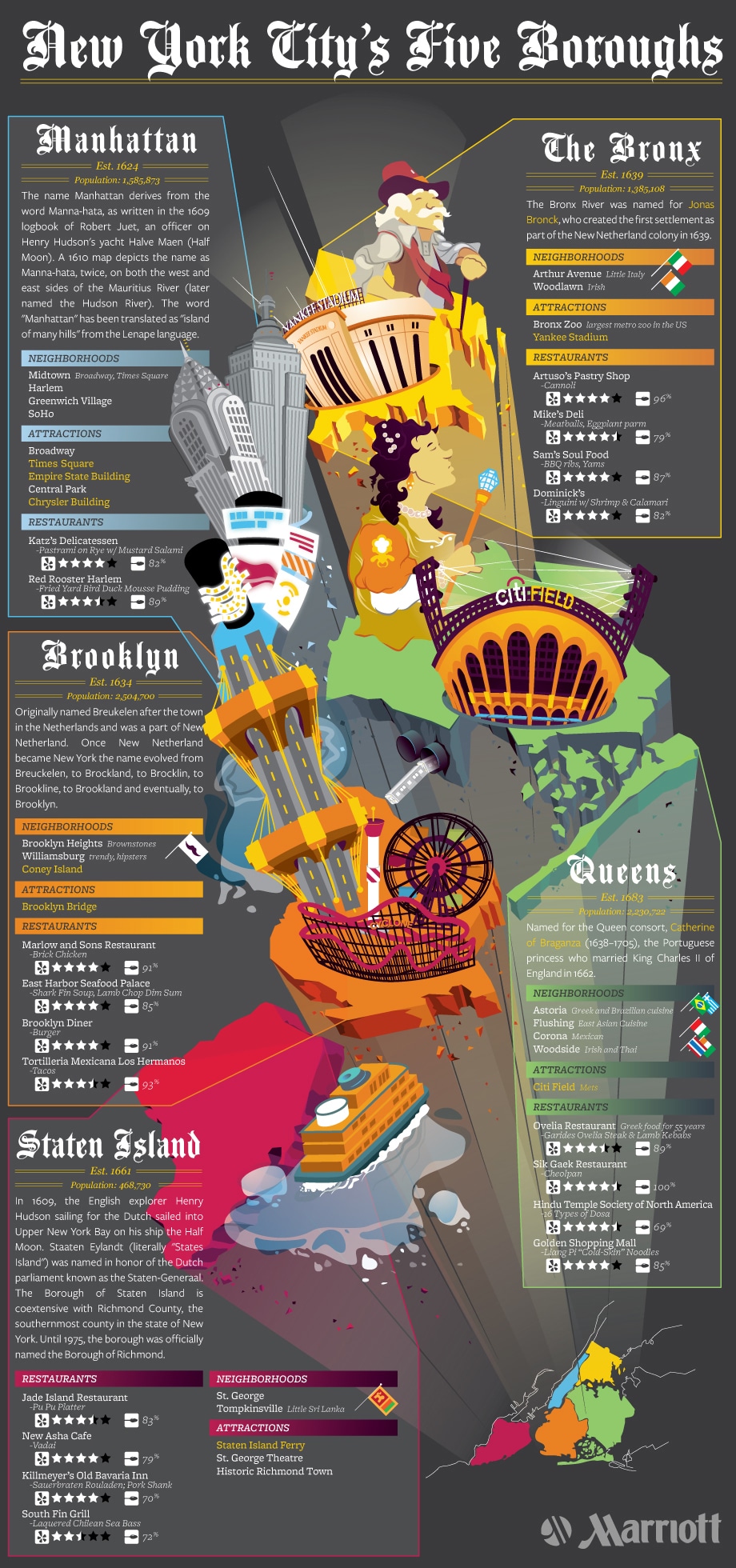 New York City's Five Boroughs – An infographic by the team at Marriott New York Hotels
We are interested in seeing a few Broadway shows while we're in the city, so I also viewed the interactive
"Timeline of Major Broadway Musicals"
by Marriott. I've decided we're going to see Newsies even though I'm very tempted to see Wicked for the third time. So many great choices!
Here are other attractions we would like to see while in NYC:
+ Central Park
+ Statue of Liberty
+ Empire State Building
+ Rockefeller Center
+ Museum of Modern Art
+ Broadway
+ Times Square
+ Ellis Island
+ Grand Central Station
And I'm sure I could go on! I can't wait for my husband to see this gorgeous city for the first time. Who knows. Maybe we'll get crazy a plan a trip to the city for New Year's Eve. I'm sure that booking a room at the Marriott and watching the ball drop in Times Square would be a romantic way to start off 2014. And, ahem — Miley Cyrus will be performing. Who doesn't want to see that trainwreck? ;)
I'd love to know — how do you plan your vacations?
I was selected for this opportunity by Clever Girls Collective, however all content and opinions expressed here are my own.
Filed Under: Travel
14 Comments