Dear Friday,
Like always, I'm glad you're here, but I'm a little worried because time has been flying by so quickly. Before we know it we'll be packing up and moving
again.
Florida, I can't say I'm excited to see you.
Dear Husband,
Thank you for always being supportive!
Dear Scotland,
I've been missing you and our favorite restaurants lately. Sure I was lonely and thought about throwing myself out of the flat window on multiple occasions, but I miss your crazy accents, drunken ways, and castles. Please take me back!!
Dear Malcolm,
I'm watching you bury one of your bones in a fake potted plant and I don't even know what to say. You're weird.
Dear Sponsors,
Glad to have you on my sidebar!
Dear Readers Looking for Someone to Sponsor,
Check out my
sponsor
page for different ad sizes; most of them come with individual guest posts! Use 'THANKFUL' to get 25% off any ad!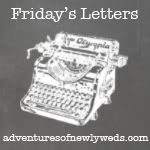 {your advertisement here}
Filed Under: Friday's Letters, Link Up
13 Comments